This summer's historic wildfires in Canada put many infrastructures at risk. (Photo: Ryan Chrisp for Telus)
TECHNO SANS ANGLES MORTS dissects current technologies, meets the brains behind these innovations and explores the digital tools offered to Quebec businesses. This section allows you to understand today's trends in order to be ready for those of tomorrow.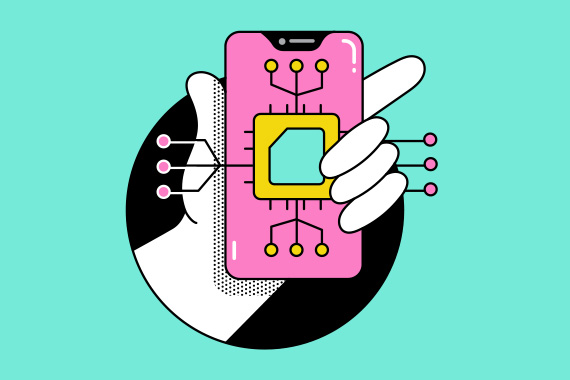 TECHNO WITHOUT BLIND SPOTS. From wildfires to spring floods to ice storms, telecommunications network operators are increasingly faced with extreme weather events. Telus Senior Vice President, Networks Nazim Benhadid shares how his teams are tackling climate change.
More than $110 million: that's how much money operator Telus has had to spend over the past five years to respond to climate change, whether by investing in solar-powered cell towers, lifting installations in flood-prone areas or adding network redundancy in at-risk locations. "And it will cost more and more," warns Nazim Benhadid.
A year-round struggle
"Confronting extreme weather events is a job that is done all year round," says the man who is responsible for everything related to the Canadian operator's networks, from their planning to their deployment. If his teams had a busy summer with historic fires and floods across the country, they at least had well-established plans.
"After each event, we update our playbooks, and we ask ourselves what we could do differently," illustrates Nazim Benhadid. For example, its teams will also fill the generators in the communications towers that have them before winter storms, and prune trees around the optical fibers before the fire season.
"One of the big changes for us this year is that we sometimes had to deal with several events at the same time. This is something we will have to look into over the coming months," he predicts.
Crisis unit
During severe events, several efforts are made to protect the network and ensure connectivity in the most important locations. "If we see that a hospital or a police station is in a risk zone, for example, we will deploy mobile cell sites," notes Nazim Benhadid. These towers placed on trailers can cover large areas, and be connected to the rest of the network by a microwave link.
The company can also deploy mobile networks, for example in forest areas where firefighters fight fires. "Even though these sites are connected to a satellite network, they allow workers to use their personal phones," he explains.
Telus Senior Vice President, Networks Nazim Benhadid (Photo: Melany Bernier)
During forest fires, there is close collaboration between emergency services, operators and electricity suppliers such as Hydro-Québec. "For communities, a telecommunications network is equivalent to running water," says Nazim Benhadid.
Certain important sectors, surrounding for example an optical fiber which serves a large region in itself, or a cell tower near a community, can therefore be protected as a priority, by carrying out emergency brushing or even by using flame retardants. .
"And it works: sometimes, after a fire, we will see a completely devastated forest, but with a small intact area, along an optical fiber or around a cellular communications tower," explains the vice-president. Several sites were saved from the flames this summer, according to Telus.
Telus is obviously not the only telecommunications service operator struggling with climate change. In 2022 alone, for example, extreme weather conditions cost Bell $27 million. Several measures were put in place by the company following the passage of the hurricane Fionasuch as improved fuel supply processes and the installation of additional permanent generators.
Long-term planning
Even though its teams improve their tactics year after year, problems related to climate change are getting worse. "We look at events that happened every 100 years, today they happen every 10 years. You have to plan accordingly," explains Nazim Benhadid.
The operator is therefore increasingly installing permanent generators on its sites, and financing various companies working in the field. For example, the Telus Pollinator Fund invested this summer in Flash Forest, an Ontario company that uses drones to reforest forests.
Its teams obviously also plan for climate change when deploying new networks, for example analyzing not only current flood zones, but also forecasts for the next 100 years.
Although he is well equipped for short-term forecasts, Nazim Benhadid admits that he would like to be better equipped for longer-term analyses. "We tend to plan based on mid-range scenarios when we predict the effects of climate change. But I would like to be able to play with the sensitivity of the forecasts. If we realize that with just a little more investment, we would be much more protected against the risks of climate change, it would probably be worth doing it. This is something that we are already analyzing, but I am not yet fully satisfied with our tools," he admits.
Cellular network operators are on the front lines seeing the effects of climate change. "We see it a little more than the others, because we are directly affected," notes Nazim Benhadid. But it is a social challenge. Each company must do more, for example by improving its carbon footprint. We can't just leave it to the government and citizens."